Hi!
Here I am again, just scraping it in with my Make It Monday post for this week.
Let's just say first couple of weeks back at school for my eldest son have been pretty hard going.
I think it is safe to say that Autism and school are not generally a good fit.
We did have a lovely weekend though (weekends are always so much less stressful than school days). Had a birthday party to go to with my middle son and even though it was pouring with rain he had an absolutely blast. What more could a boy want than party food and muddy puddles, lol!
By late Sunday afternoon I was beginning to think I might not get my card finished for this week's
MAKE IT MONDAY
linky party
but with a quiet hour to myself I managed to get it all finished, photographed and now posted.
I have used this absolutely adorable image called
Rosealba Faerie
from our sponsor this week.
We are pleased to welcome another new sponsor to Make It Monday this week.
The absolutely fabulous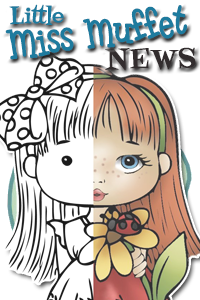 http://www.littlemissmuffetstamps.com
Howdy from Little Miss Muffet Stamps! This little shoppe was inspired by a house full of Little Miss Muffets and arachnophobes alike. It isn't too difficult to image how I ended up here since I've been drawing and coloring from the moment I picked up a crayon. Now as I sit in my hobby room I get to share my passion with my own Little Miss Muffets who love to work along side of me. Now I'm excited to share creations from two additional artists... Pollycraft by Paula and introducing Simply Sophia!! With our three unique styles there is something you are sure to enjoy!
Little Miss Muffet will be offering our winner
3 digis of their choice!
Remember, to be in the running to win the prize from our sponsor this week just leave a comment for another entry. Be sure to mention you saw them on Make It Monday. The more entries you comment on the more chances you have of winning!
I have coloured this sweet fairy using Copic Markers in the following colours:
Hair - Y21, Y23, Y26, Y28
Skin - E000, E00, E11, E21, R20
Dress - R81, R83, R85, R89
Wings - R81, R83, Y11, Y00 and clear spica pen
Belt/Shoes - YG91, YG93, YG95, YG97
I used the following colours for the sweet little foxes:
E30, E31, E33, E35, E37
My fabulous teamies have created a selection of gorgeous cards to get things started.
Please stop by their blogs to say hi and to see who they picked as their favourites this week.
Ok, I think I have kept you here long enough (at least I hope you made it this far, lol).
Come and join in the fun at MIM this week. I look forward to seeing what you have created.
Before you go though please take a look at the entry that really stood out for me last week from
I always struggle with masculine cards but this one is so inspirational! Love the whole layout and the gorgeous colouring.
Thank you so much for sharing with us Lorraine.
Thanks to you too, for stopping by today. Please join us at Make It Monday this week. I look forward to seeing you there.